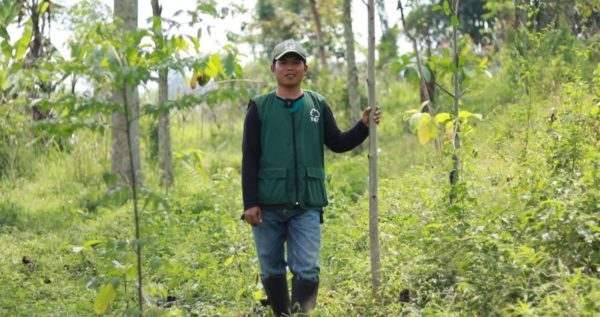 At 37 years old, Itang Zaenal stands out as a young farmer collaborating with Trees4Trees as a tree grower in Mandalahaji Village, Bandung Regency. In contrast to his peers who often seek employment outside the village, Itang has made a choice to remain within his community. He skillfully tends to his plot of land and has effectively generated income from its produce for several years. 
Become a farmer since his young age
Itang owns a parcel of land situated approximately 1 kilometer from the Cirasea sub-watershed, a tributary of the Citarum river. On this land, he cultivates both timber and various crops, aiming to secure both short-term and long-term income sources. The yields he generates from his land enable him to provide for his family, including his two children. 
However, Itang's journey as a farmer commenced at a remarkably young age. At just seventeen years old, he decided to follow his passion and become a farmer.
"In those times, very few young individuals showed interest in farming. This was due to the mistaken belief that farming couldn't lead to substantial earnings. I stood among the minority of young villagers who opted to remain in our community and pursue farming. Most of them preferred urban employment," he revealed. 
Itang also acknowledged that prior to his decision to settle in Mandalahaji village, he had briefly worked in the city of Bandung. "City life didn't resonate with me, I suppose. The rigid work hours left me with minimal opportunity to engage in activities I enjoyed," Itang expressed. 
Benefiting from Trees4Trees' Citarum rehabilitation tree planting program 
In 2022, Itang was presented with the opportunity in the tree-planting program initiated by Trees4Trees, sponsored by AstraZeneca and One Tree Planted. "The idea thrilled me, as I received tree seedlings completely free of charge and I get to keep all the results for myself. It was a significant help for me," Itang expressed 
Focusing on planting bur-flower (Jabon) trees and coffee, Itang intends to gain long-term benefits. "Jabon is very well-suited to the soil conditions in my field, so it grows exceptionally well in this area. Jabon also regenerates new shoots automatically after being cut down, ensuring constant flourishing. Coffee, on the other hand, is a promising commodity. With more coffee trees, I can earn a better income," Itang explained.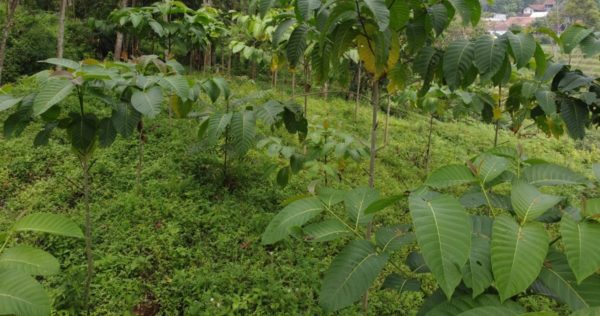 Applying organic farming 
Since his beginning, Itang has employed organic farming techniques in nurturing his trees. He has personally crafted fertilizer from the manure of his livestock. "Thank goodness, when I employ organic fertilizers made from the blend of manure and soil, the growth of the trees accelerates significantly," he exclaimed while gesturing towards the flourishing trees around him.
Itang also expressed his gratitude for the organic fertilizers and pesticides provided by Trees4Trees. He noted that with these organic materials, he managed to foster Jabon trees that grew to around 2 meters in height in just eight months. "The outcome fills me with great excitement," he confessed. He further added that these organic resources complemented the organic approach he had been practicing for years.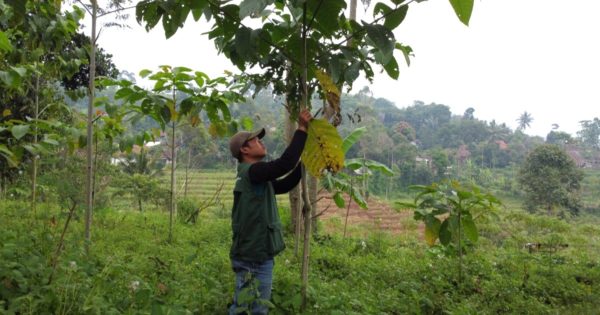 Planting trees, passes down the Citarum springs to the next generation  
Itang's land is situated approximately 15 kilometers from the source of the Citarum River. This location marks the origins of seven springs, which converge to form the Citarum River and its tributaries. 
"From these springs, the water flows into the Cirasea River – one of the Citarum's tributaries that runs near my land. This river holds vital importance for the villagers, serving as a primary irrigation source and sustaining the trees I've planted. Thus, preserving both the river and its banks is essential," Itang emphasized.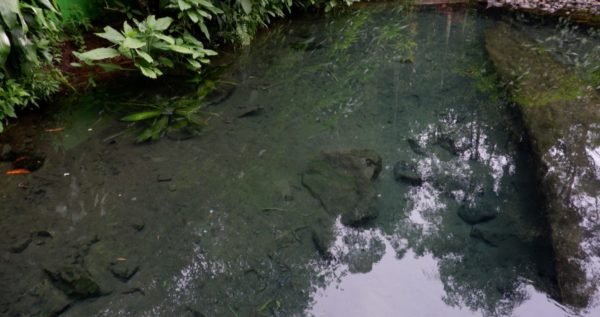 He underscores that planting trees along the riverbanks plays a crucial role in curbing erosion and the siltation stemming from river sedimentation. 
"With the exceptional spring waters of the Citarum River, my endeavor in tree planting aims to pass on the legacy of healthy water sources to my children and the generations to come. I strive to pass down 'mata air' (water springs), not 'air mata' (tears). If we neglect our duty to care for it, all that remains to pass down would be tears – nothing of our natural heritage would be left," Itang passionately conveyed.