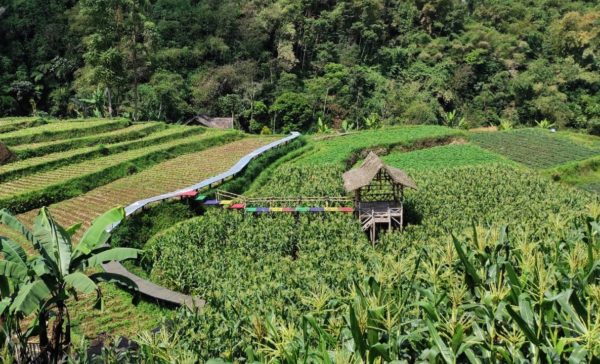 "We provide a place where tourists can sit, drink a glass of coffee together, take a photo, and enjoy the view," says Asep, a young entrepreneur in West Java. We're sitting together in Legok Dayeuh in West Bandung regency, sipping coffee grown in the patchwork of plantations that covers the surrounding landscape. Up here, at 900 meters above sea level in the foothills of Mount Puntang, the air is fresh and cool, and the views are truly beautiful.  
Since 2020, and with support from local government, young people like Asep in the nearby village of Campaka Mulya have been working to develop Legok Dayeuh and turn it into a tourist destination. They've been constructing saungs – a kind of traditional bamboo pavilion, where visitors can relax and enjoy panoramic views. These structures add a touch of cultural magic to the natural wonders that surround them.  
Stunning Views of Verdant Surroundings
Asep explains the saung were a natural choice for the designers and builders of the Legok Dayeuh development project, as they are emblematic of local Sundanese culture. "The tourism spot was initiated by young people in the village and the saung were also built by hand by members of local communities, working together," says Asep. 
Legok Dayeuh is situated close to the Cigereuh River; a tributary of the Cisangkuy River, which is in the sub-watershed of the Citarum – the longest and largest river in West Java. Campaka Mulya village is located less than two miles (3 km) from the foot of Puntang Mountain and around 9 miles (15 km) from downtown Bandung. 
Legok Dayeuh's main attraction is the vast expanse of rice and corn fields, which cover an area of around five hectares and feature footbridges that allow visitors to immerse themselves in the landscape. Two traditional saung huts, made from bamboo and with roofs of dried sugar palm leaves, provide eye-catching landmarks in the valley.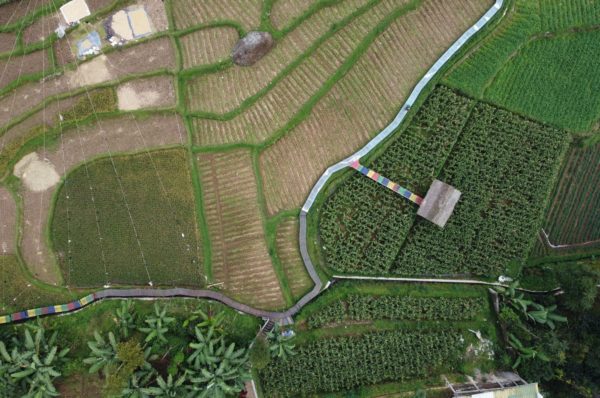 Plenty to See and Do  
"We have welcomed many visitors, including a group of tourists from Japan," explains Asep. "At the moment, due to ongoing development of the tourism spot, we can only offer tour activity packages for groups," he added.  
These package tours put an emphasis on nature, discovery and authenticity. Visitors can get their hands dirty, explore the landscape, and experience activities in the fields like planting or harvesting rice paddies with local farmers, swimming and paddling in the river, hiking through the hills, and picking coffee beans.  
"In the future, there will be also a campsite on the hill," says Asep. "But we're still in the process of setting it up."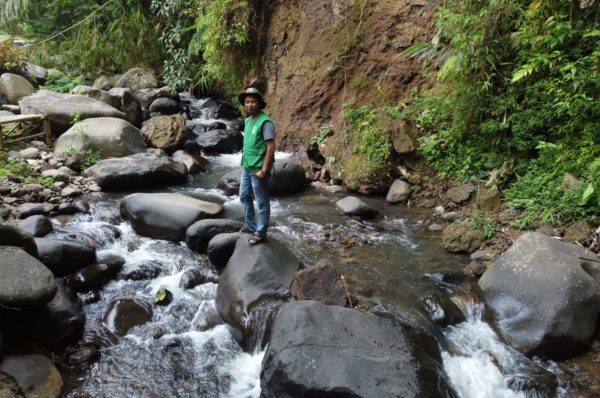 Cup of Java: A Taste of Local Tradition  
These high altitudes are perfect for growing coffee – particularly arabica. Many farmers in Campaka Mulya plant coffee trees, and the region is developing a global reputation for the quality of its coffee beans.  
In 2015, a local brand (called Puntang Coffee) actually won the Coffee Specialty Competition in Atlanta, USA. "From that moment on," explains Asep, "farmers' interest in growing coffee trees has increased." 
From planting to picking and from roasting to grinding, every step in the Puntang coffee process is done by hand. Locals like Asep are only too happy to walk visitors through the process, or brew up a special cup for them to taste. Visitors can also take home a 200-gram pack of Puntang coffee for just IDR 100,000 (US$ 6.50).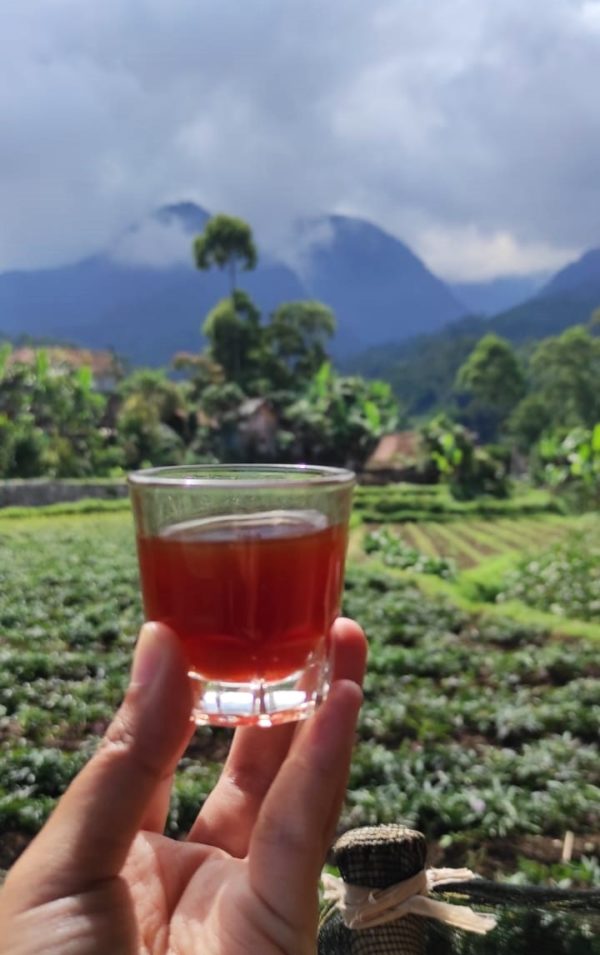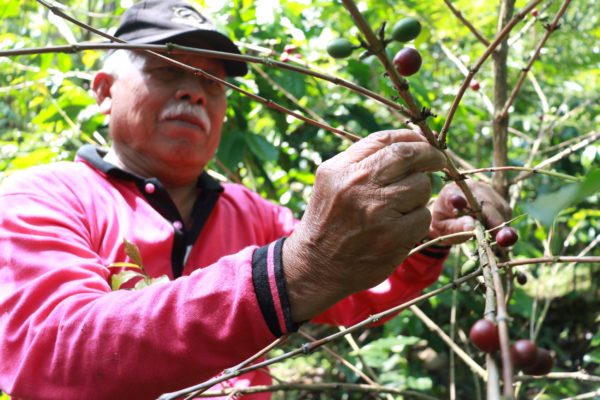 Plant Trees, Empower Locals, Preserve the Environment 
To preserve the natural wonders of Campaka Mulya and help the village develop its tourism potential, Trees4Trees has been planting trees here since 2020. "We plant some types of trees, including jabon (burflower tree), mindi (chinaberry), eucalyptus, and coffee, says Anggy Firmansyah, who is Unit Manager of Trees4Trees in the Cisangkuy planting area. "Particularly for coffee, we aim to support local farmers, who depend on (coffee) as their main source of income."  
Trees4Trees has also been busy planting trees along the riverbank of the planned camping ground area, to prevent erosion and provide shade. "We hope the trees not only serve to preserve the environment but also support the effort of establishing this tourism destination," Anggy added. 
Writer: V. Arnila Wulandani. Editor: Christopher Alexander