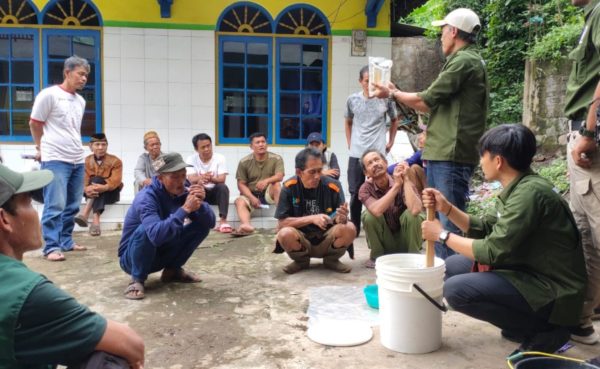 Trees4Tress is working to green the world and grow a better future. In these reforestation efforts, farmers have a crucial role to play. Through a series of training activities, we have been working to build farmers' capacity, empowering them to plant seeds of positive development in their communities. 
From November 4 to the end of January 2022, season, Trees4trees has held farmer training in 193 planting locations throughout West and Central Java. These sessions were attended by a total of more than 4,000 participants. We also employed local people as field facilitators, so they could take the lead in tree planting activities in their home village.
Trees4Trees Training in Numbers: 
193 villages

 

40 sub-districts

 

More than 4,000 participants

 

664

field facilitators

 

91 field coordinators

 

85 government instructors

 
Raising Awareness, Developing Skills 
Our aim is to encourage the use of more organic, environmentally friendly methods. Training sessions focused on how to make organic fertilizers, and pesticides, while also showing farmers some handy propagation techniques for seedlings.
"It's a win-win situation." – Tedi, Trees4Trees Training Officer
Tedi Purnama is one of Trees4Trees' training officers. He has noticed most farmers still use chemicals in agriculture. "We want to encourage them to switch to organic techniques," he explains. "This is not only better for the trees' growth, but also better for the environment – it's a win-win situation."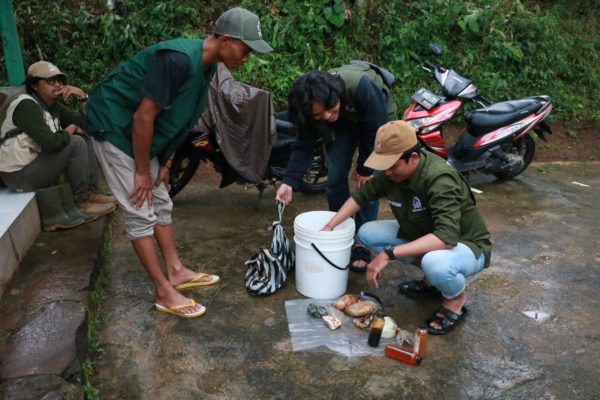 For many farmers who attended the training, organic farming was something interesting but unfamiliar. Nuryanto, from Pinggirsari village in West Java, was one of many who was happy to find out more information. 
"This training is interesting because the ingredients to make organic fertilizers or pesticides are easy to find and cheap," said Nuryanto. "We know that chemical fertilizers and pesticides harm the soil – now we finally have a way to reduce our dependency on these materials," he added.  
Read also: Encouraging Organic Farming Trough a Training 
Showing the Way: Field Coordinators and Facilitators 
Leading these sessions were Trees4Trees' team of field coordinators and field facilitators; local recruits, trained in organic farming techniques by one of our more experienced training officers.  
"Field facilitators are closest to the farmers and local communities," explains Tedi, who has been helping this team deliver the training in their communities. "They are also the first people farmers can go to and ask about how to implement organic farming properly. So it's important for them to know everything," he added.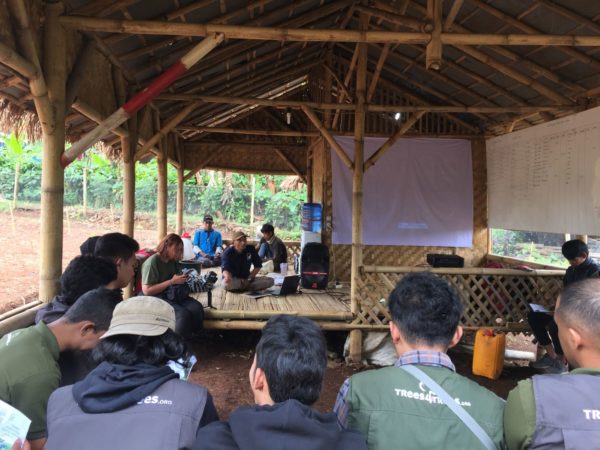 Rizki Imanuddin is a field coordinator from Pinggirsari village in the Cirasea district of West Bandung. He found the training to be a really positive experience. "Seeing the farmers so enthusiastic about organic farming makes me excited too," he revealed. In his village, fruit production optimization was the most popular topic, as many local people were looking for ways to sustainably increase their fruit yields.  
Read also: Putting Down the Roots: Trees4Trees Planting Season 2022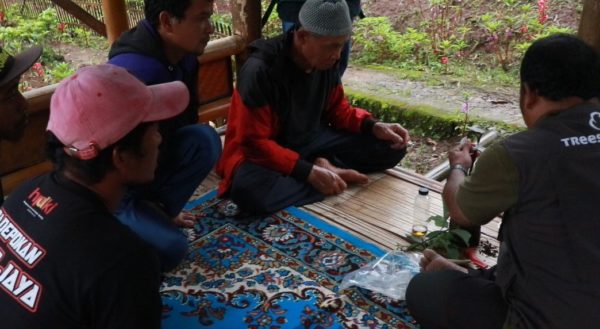 In Cisangkuy District, farmers were eager to join the training session about propagation of seedlings and grafting techniques. As the field coordinator, Rahmat noted that "during the training, farmers practiced the techniques seriously – they are eager to begin applying this knowledge in their own fields."  
"Seeing the farmers so enthusiastic about organic farming makes me excited too."– Rizki Imanuddin, a field coordinator from Pinggirsari Village
Collaboration is Key to Success Growing Together 
In addition to the generous support received from AstraZeneca and One Tree Planted in the planting area around the Citarum watershed, Trees4Trees is also working together with government instructors from Indonesia's Agricultural Extension Agency (Badan Penyuluh Pertanian/BPP). 
So far, as part of our current planting season, more than 85 instructors from the government agency have gotten involved in farmer training in 32 sub-districts where our planting areas are located. 
Roni Nur Rohman is one of the instructors who attended the recent training. He believes BPP and Trees4Trees share the same mission: to support reforestation efforts and empower farmers to develop more sustainable livelihoods.
"We hope this training can improve farmers' knowledge about tree planting and organic farming," says Roni. "With collaboration, and from cultivation to harvesting, the planting process will bring great benefits to farmers and the environment."  
Writer: V. Arnila Wulandani. Interview: Kemas Duga Muis. Editor: Christopher Alexander