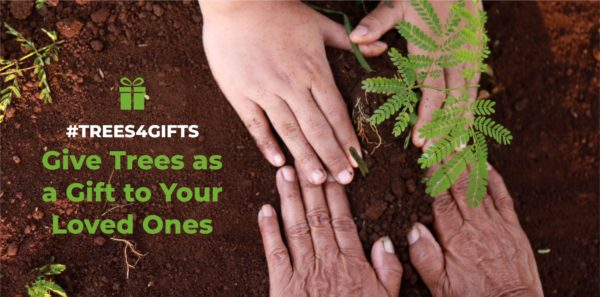 Are you thinking about a special and memorable gift that you can give to your loved ones?  A memorable gift is probably something unexpected and unique with a special meaning that makes it a perfect gift.  
Giving a gift of trees is a perfect gift to show your sincere appreciation to your special ones!  
At this end-of-year moment, there are many occasions to give a gift of trees to surprise your friends, family, lover, or your workmate! You can give a gift of trees with someone's name as a Christmas gift, New Year gift, Mother's Day gift, or for another special day version you!  You can also write your message along with your gift of trees planted.  Click link below to gift trees to your loved ones.
If you have trouble in making donation payment for planting trees, for alternative payment method please send us an email to: info@trees4trees.org with subject: Donate Trees_Trees4Gifts_Your Name
The gifted trees will be planted in critical areas both in farmers' fields and public facilities like riverbanks and around the water spring for environmental improvement.  By gifting trees, you will not only giving a memorable gift to you loved ones, but also helping to: 
Improve the environment and reduce erosion, drought, and maintain the clean water availability
Combat global warming and climate change by trees planted that will absorb greenhouse gases
Empower farmers families to plant trees on their land where they grow more economic value trees.
 You Can Visit Your Tree
You can visit your trees through the online map in trees4trees.org in website. Please Scan a QR code or enter a WIN (World Identification Number) code on our website. Click See Your Trees button to enter a WIN number and visit your trees online!