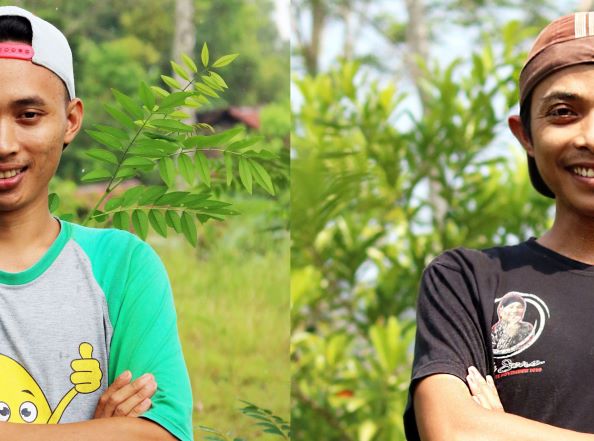 Not many young people in Central Java, are interested to live in the village and engage themselves in farming. Based on data collected by the Trees4Trees team, farmers participating in the Trees4Trees program in Kebumen are mostly middle-aged and elderly farmers. Most of the youngsters choose to leave their rural homes and work in big cities. 
Like most youngsters in their village, Aan (26) and Sugiman (29) from Kalirejo village,  – who are close friends –  also decided to leave their village and migrate to the big cities. They thought that working in big cities was more promising to improve their living standard than in the villages.  
Unfortunately, reality was far from their expectation. Finding an ideal job in big cities was not as easy as they thought. Over the years, they jumped from one big city to another to find a better job. Life was getting tough. Finally, after years living in big cities the two decided to return to their village.  
Read also: Masimun is Not Just a Farmer. He's a Puppet Craftsman 
"One day when we were far from home and life was tough, we remembered our village has great natural resource potential. We thought it would be better to develop what we already have in the village than to live in the city. We want to do something useful in our village," both said.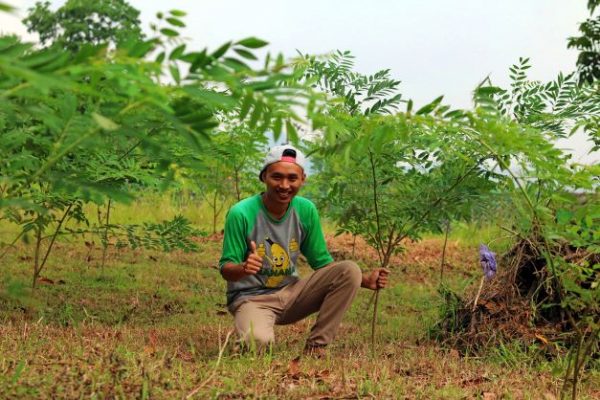 After returning to their home village, they did not know where to start for sure. Then one day, they discovered that many agricultural lands in their village were abandoned and had become barren. 
"At that time, we kept asking the question in our mind, why were the lands in our village turning barren, arid, and poorly managed? Those lands were productive and fertile before," said Sugiman. "We also wonder, why did farmers leave their lands neglected and unproductive? These questions were spinning around in our mind for weeks," Aan continued. 
Read also: Sarpin, Planting Trees are More Important than Money 
Later, they found the answer. The problem was because most of farmers in their village were getting older. They no longer have  the strength enough to manage their lands, so their lands became unproductive. Most of farmers also can't expect their children to continue managing their lands because they already work and live in the city. 
Realizing these problems, Aan and Sugiman then began to learn farming and growing crops in their village. When ONE HOPE and Trees4Trees came to their village and started the tree-planting program, they joined it immediately. These two young farmers then learned about agriculture more, including how agroforestry works, how to maximize their agricultural lands, manage crop yields, and make organic fertilizer.  
Deciding to return to the village and being young farmers are new challenges for them. However, they thank Trees4Trees for supporting and encouraging them. Now, some of the barren lands in their village are turning green after they have planted various trees. As they look greener day by day, it makes them enormously proud and motivated.  
Currently, Aan and Sugiman are also supporting the Trees4Trees education program by working as field facilitators. They are also active in encouraging young people in the village to take part in the reforestation program. They want to spread knowledge and inspire more people, especially other young people in their village to keep farming and planting trees on their lands. 
Both said they will keep farming and not return to the city. Their village is their home and they will live there for the foreseeable future. They have a big dream, to create opportunities which can offer jobs to young people through agriculture, reforestation, and natural resources, so they do not need to leave the village to find a job. 
Aan and Sugiman also said, farmers are a principal element of agriculture practice, food security, and ecosystems restoration. It is an obligation for young people to take actions and continue what our previous generations have done before. They thank ONE HOPE and Trees4Trees in helping them to get started in the right way. 
Interview & photo: Yulianisa Dessenita
Author: V. Arnila Wulandani & Yulianisa Dessenita