Pati Regency, located in northern Central Java, is one of the many mangrove-growing areas in Indonesia. This regency has approximately 8,000 hectares of potential mangrove areas. Nearly 25% of Pati's total coastline was forested with mangroves. Unfortunately, the mangrove cover in this area is degraded and in poor condition.  In 2017, a survey in Pati showed that around 60% of mangrove cover had been lost in some districts.
Mangrove Cover in Poor Condition
Coastal erosion and land over-use are the most common causes of mangrove destruction in this area, making many mangrove areas become critical lands, including in Dukuhseti Village. Mangrove ecosystems play an important role in climate stabilization, coastal protection, biodiversity richness, local community's economy, and supporting fishery.
Read also: Incredible Benefits of Mangrove Ecosystem
"In the past, our village had mangrove forests, but they were exposed to tremendous coastal erosion. After that, there was an expansion of the fishponds that cut down mangroves excessively. Consequently, now our village has no wave barriers around the coast," said Mustofa, leader of the Tani Makmur farmer group in Dukuhseti Village.
Most of the villagers of Dukuhseti make their living as fish farmers and fishermen. They have fishponds near the coast. Their main products are tilapia and milkfish.
Mustofa said the most significant impact after the mangrove forest was drastically reduced is that now the village does not have any wave barriers, thus endangering small fishponds near the coast owned by local farmers.
"When the big waves come, our fishponds are often hit and destroyed by the waves. Big waves sometimes also bring runti pests (barnacles) in large numbers. They not only can injure fish farmers because they are sharp but also can infect young mangrove tree trunks," Mustofa added.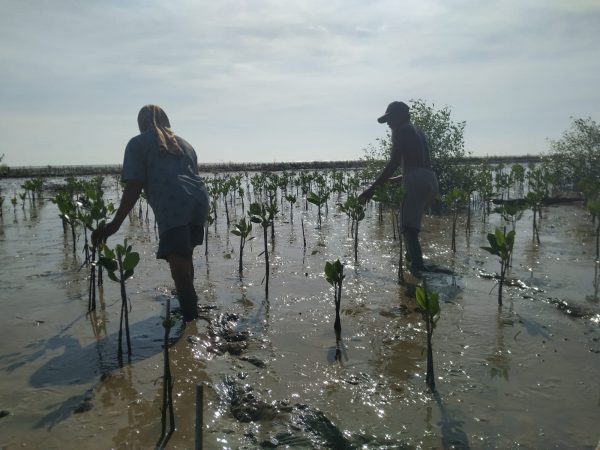 Planting Mangroves Program with Trees4Trees and EcoMatcher
When Trees4Trees and EcoMatcher came to Dukuhseti Village and invited them to join the mangrove tree planting program, Mustofa and other members of the Tani Makmur group welcomed the project enthusiastically.
"The community was very supportive and excited when they knew the program was being implemented in our village. We hope that many mangrove trees can be planted so that erosion can be prevented, and our fishponds can be protected from waves," said Mustofa. In addition, mangroves also benefit fishermen because they do not have to go to sea far to catch fish. The fish become more abundant around mangroves.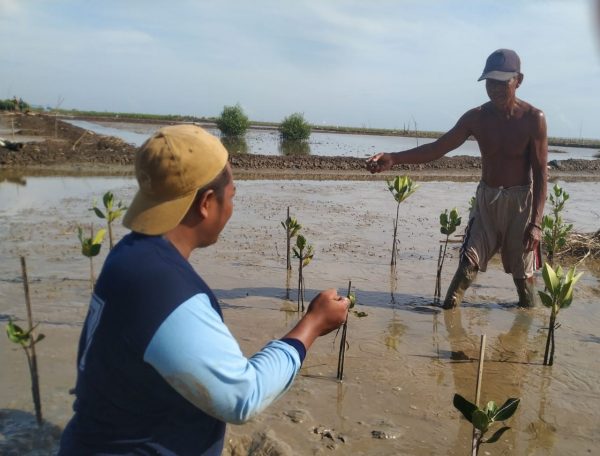 Since November 2021, Trees4Trees and EcoMatcher have planted 30,000 mangrove seedlings on the coast of Dukuhseti village in partnership with the fish farmers from the Tani Makmur farmer group. The mangroves planted covered an area of ​​3.8 hectares. The fish farmers are employed in producing seedlings, planting, and installing breakwater walls to protect the young seedlings.
"Before planting mangroves, the land was considered by the government to be critically degraded land. There were only a few mangrove trees left. We planted Avicennia and Rhizophora mangrove species because these two types were the original natural forest. We hope to restore the mangrove cover in this area completely," Fauzan, Unit Manager of Trees4Trees Pati, said.
Inspire Local People to Plant More Mangrove Trees
Interestingly, the Trees4Trees and EcoMatcher mangrove planting program also inspires and motivates locals to plant more mangrove trees around the village coast. Shortly after the planting project with Trees4Trees and EcoMatcher was completed, the villagers planted mangrove trees voluntarily around the planting area. They sow the Avicennia seedlings directly on the shore and around the fishponds while the waves are low.  
"Actually, some villagers whose ponds are close to the coast had planted mangroves voluntarily a long time ago. However, this program motivates and inspires more people to plant more mangroves. We think it is because people are starting to realize the importance of mangroves' existence in the village," said Mustofa. The villagers thank Trees4Trees and EcoMatcher for the mangroves planting program. They also hope to plant more mangroves in the future.
This year, Trees4Trees has been partnering with EcoMatcher for five years, a moment to celebrate! Both are keen on their commitment to supporting local communities and environmental restoration by planting trees. Trees4Trees and EcoMatcher use technology to monitor the locations of the planted trees. Anyone can visit the trees they have planted through the EcoMatcher website.  Each tree planted by Trees4Trees and EcoMatcher is recorded with the TreeCorder application developed by EcoMatcher. With this technology, anyone can track and plant trees via a smartphone and get information about the trees and the farmers who care for them.
Author: V. Arnila Wulandani