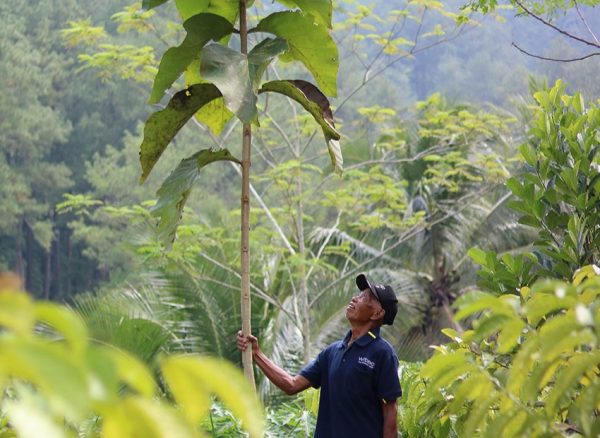 Gunungsari village, Kebumen, Central Java, is famous for its waterfall tourist attraction and the lives of one of our farmers, Sarpin. He owns the land next to waterfalls. In the past, he was just a paddy farmer, but the land he owned was not suitable for that so he switched to planting fruit trees supported by our tree planting program, Trees4Trees. 
Sarpin is one of our best farmers, he joined our program since 2019. There is a reason why he became our best farmer, he's not only planting regularly, but he also educates young farmers about agriculture and gives them life lessons. 
For him, planting is a joy and a necessity. He doesn't care how much money he gets from planting. He believes that we will never run out our fortunes as long as we are always grateful. When we asked him why did he choose to be a farmer? he literally could sell his land for tourist attraction and live a prosperous life. But he explained that he was not looking for material happiness. 
"I'm not after money, but money chasing me", he laughs.  
"It's true… whoever sows he will reap. You plant a tree, you can eat the fruit, you sell the fruits, the leaves can be used as animal feed." 
Money is not everything for Sarpin. Having a lot of money does not guarantee him a happy and peaceful life. By planting trees, he was able to support his daily needs and provide adequate education to his children. Even though sometimes he doesn't get a daily income, he can get vegetables and fruits from the field to cook.  
Read also: Grandpa Wasis and His Dedication to Planting Coffee
So even there is a developing tourist attraction around his land, he will not sell his land and maybe he will just rent it out some of it for small stalls to help the local economy.  
Sarpin then told us about his son who had worked in Korea and returned to the village to continue farming. He is very proud of his son's decision to choose to return to the village and take care of the land and be active in community activities. 
"The salary is big (in Korea), but he didn't feel peaceful… that's why he came back here".  
"He missed his beautiful, he missed home cook and he missed his parents". he added.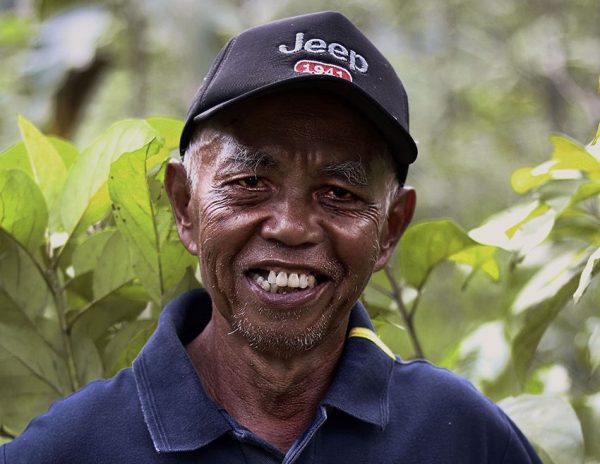 Sarpin explained that the villagers of Gunungsari live a simple life and help each other. They support activities that prosper the village and the environment. They are very happy to be involved in planting programs.  
"We don't ask for money or basic needs", he explains. "give us seedlings and we can survive''. 
We relized,  that the general understanding of most people is that giving money to people in need is a shortcut to help. But actually, the wiser way to help is to teach them to be independent and a chance to try again, they need this kind of support.   
He reminded us to always be grateful and says: if you want to feel rich, plant a tree. If you want a peace, plant a tree.   
We really enjoyed our time with Sarpin and we are very grateful for his contributions and support for our tree planting program. We hope that we will meet him again next year to see his trees grow and to share more stories. 
Author: Yulianisa Dessenita