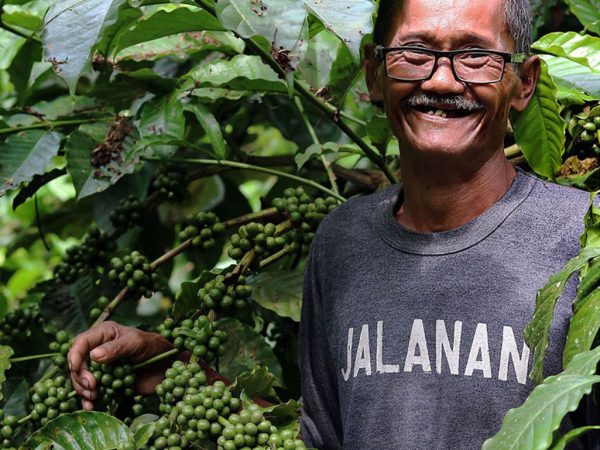 In a hamlet called Wonosari in Kalirejo Village, Kebumen – Central Java, there is a small hut far from the settlement, surrounded by coffee trees and there lives an old man named Grandpa Wasis. He lives alone in the hut, inside the hut there's only one lamp and an old radio. Grandpa Wasis calls it home. Meanwhile, his wife chose to live with her eldest child in the neighboring village. 
That afternoon Grandpa Wasis was waiting for us in front of his house. He made time for us in the middle of his work. He is very friendly and always has a smile -maybe Grandpa Wasis hasn't been visited by guests in a long time.  
We were impressed with the coffee plantations that he takes care of, they are lush and fruitful. We asked him what is the secret of it? And he answered "experience" with a little laugh. 
Grandpa Wasis explained that he does not have secret method but just follows the usual ways of taking care of his trees, only that he monitors his plants every day to make sure each tree gets the care it needs. That's why he chose to stay on his land.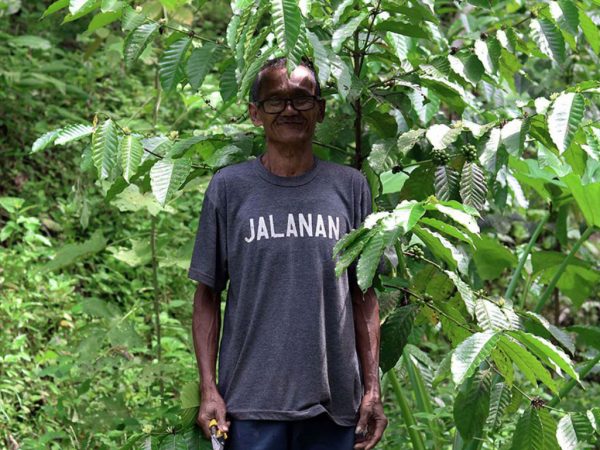 He shared that he had planted coffee trees when he was very young. He has grown coffee in several areas in Indonesia such as Lampung, Palembang and Central Java. Grandpa Wasis really likes coffee and understands which coffee has good quality. He chose to return to his village because he felt that living in Palembang was not safe for himself and his family. 
"In Palembang… for example, if there was rice in the hut, the rice was gone". 
"I thought about the safety of my family so I chose to come back here and make my own coffee plantation…. Alhamdullilah, we were offered coffee seedlings from TREE Ltd and Trees4Trees". 
With such fertile land we are wondering who's going to manage it in the future? Grandpa Wasis was silent for a moment. He had no idea about it yet, he doesn't want to force his son to follow his steps, the most important thing is that right now he is happy to take care of his trees. His coffee trees are his only treasure. He hopes that young people will start learning to plant because the number of farmers in the future will decrease.  
He told us that he feels supported by our tree planting program and for that, he thanks the donor TREE Ltd who's supporting the program and cares about small-scale farmers like him. Grandpa Wasis hopes he is eligible to get more seedlings next year because planting and taking care of the trees are a pleasure for him. Grandpa Wasis admits that the income he gets from his trees are not much because his land area is not very large but he is very grateful. 
"When my land is green, I'm happy… I don't ask for anything else". He smiled. 
Doesn't feel lonely living alone here? We asked. He said he was used to being alone and this was a form of his dedication as a coffee farmer. 
We believe trees that are cared for with love always have the best results and we are sure these trees are in good hands, to the man who dedicates his life to planting. 
We thank Grandpa Wasis for his dedication. Know this Grandpa, you play a very important role in the environment and society. We wish you always health and happiness Grandpa! 
Author: Yulianisa Dessenita