Ms. Yustina Ambarini Murdiningrum, a PhD candidate at the Charles Sturt University's Institute for Land, Water and Society, will study the Trees4Trees Foundation and it's program activities as a component of her academic research in relation to community-based forest management in Indonesia.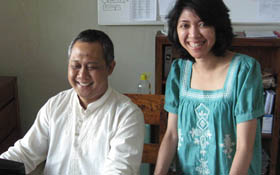 Ms. Murdiningrum will be based in Albury, Australia, and will spend time in Central Java with the Trees4TreesTM team to undertake components of her field research and interviews. Dr Digby Race will supervise Ms. Murdiningrum's research.
Dr. Race often conducts and participates in workshops and training fora that focus on capacity building of rural communities, conflict management, and developing mutually beneficial partnerships between communities and the forest industries. Over the past decade, Dr. Race has undertaken research with a diverse range of partners, including the NSW Department of Primary Industries (Agriculture), Collaborative Research Centre for Sustainable Production Forestry, the Australian Government's Department of Agriculture, Fisheries and Forestry (DAFF), Australian Centre for International Agricultural Research (ACIAR), Greening Australia Ltd, Rural Industries Research and Development Corporation (RIRDC) and the United Nation's Food and Agriculture Organisation (FAO).
"The management team are really looking forward to Yustina's and Digby's involvement and study of the Trees4Trees program and it's activities. We are excited to be part of this research. As a case study, our program will be put under the microscope. We consider this an invaluable opportunity for somebody independent from our organization to review what we are doing so that we can benchmark our program against world's best practice. Yustina's study will identify areas where we can further improve our program to better address the needs of the communities that we work with" outlined Mr Simon Greenaway, Principal Forestry Advisor to the Trees4Trees Program.
Research summary: The Capacity of Non-Governmental Organizations to be an Effective Catalyst for Community-Based Forest Management in Indonesia.
After the Suharto era of government in the late-1990s, forest management policy shifted to include an emphasis on active participation by local communities in forest management. However, due to a range of constraints, realising the potential of community-based forestry has been slower than expected. Non-government organisations (NGOs) are an important player in shaping Indonesian forest policy and practices, particularly in relation to enhancing the benefits from forestry for rural communities. Yet even for NGOs, it isn't always clear what is the most effective role these organisations should play to enhance community-based forestry.
This research aims to analyse the niche for different NGOs and how to optimise the contribution of NGOs to support community-based forest management (CBFM) in Indonesia. The research will involve a thorough diagnosis of the economic, social and political context in which selected NGOs operate in the forestry sector, and will be active from July 2009 until June 2012. The key questions guiding this research include:
What is the nature and scale of operations of the different NGOs involved in CBFM in Indonesia?
What influence do NGOs have in the reported 'success' and 'failure' of CBFM initiatives?
How can the role of NGOs be optimised to support CBFM?
It is proposed that data will be gathered by:
review of key forest policy and operational documents
in-depth interviews with a wide range of stakeholders (eg. forest growers, NGO field staff and managers, government forestry staff); and
focus group discussions with CBFM stakeholders.